Spezialkurse / Special Training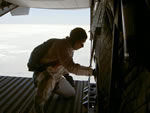 Basic HAHO & Teamwork Training
Advanced Training for oxygen jumps as a team using HAHO techniques.
Tandem/Tandem Cargo Course
Instructional Rating Courses can be conducted following ISIA, USPA, DFV and/or Manufacturers guidelines and manuals or as customized training according to client-specific requirements.
The course provides drogue system familiarization including rigging and emergency procedures as well as training  jumps with personal equipment/rucksack or cargo up to 100 kg.
K9 Course
This course covers the basics for Tandem Instructors to jump with dog handlers and their dogs or alternatively enables tandem qualified dog handlers to jump with their K9 passengers solo.
Tandem Tethered Bundle Training
Advanced course for experienced Tandem Instructors.
The course provides training for aerial delivery jumps with ca. 300 kg exit weight.

AIRCREW Military is the first commercial Tethered Tandem Bundle training facility outside the USA.
| | | |
| --- | --- | --- |
| | | |
| Barrel harness | Rigging the tube | Loading the Skyvan |
|   |   |   |
| | | |
| Tied down barrel | Bundle at tailgate | Bundle in cargo bay |
|   |   |   |
| | | |
| Safety check | Suspended MTTB | TTB canopy ride |
|   |   |   |
| |   |   |
| Landing approach |   |   |